Far and above, our most popular home renovation we are hired for in Vancouver are kitchen renovations. After all, kitchen renovations (when done professionally) are most likely to increase your home's value, and add immense day-to-day value to clients. With the new year off to a cracking start, and spring just around the corner, we wanted to share our predictions for 10 kitchen design trends that will take off in 2019.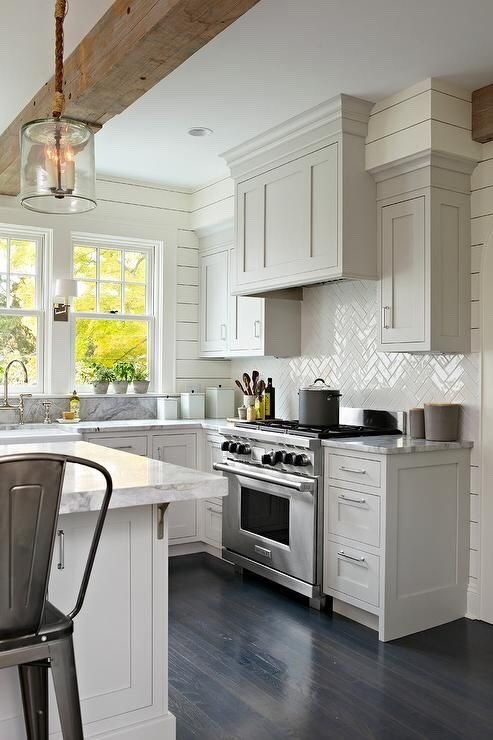 CONCEALED HOOD VENTS
This year we are seeing a growing increase in clients wanting to conceal their hood vent. This is especially strategic when you plan to put more emphasis around other design elements of your kitchen, such as backsplash tiles, or popping countertops. The artfully concealed hood vent works particularly well in more traditional, craftsman style kitchens, and blends effortlessly with west coast Vancouver kitchen design aesthetic we are known for.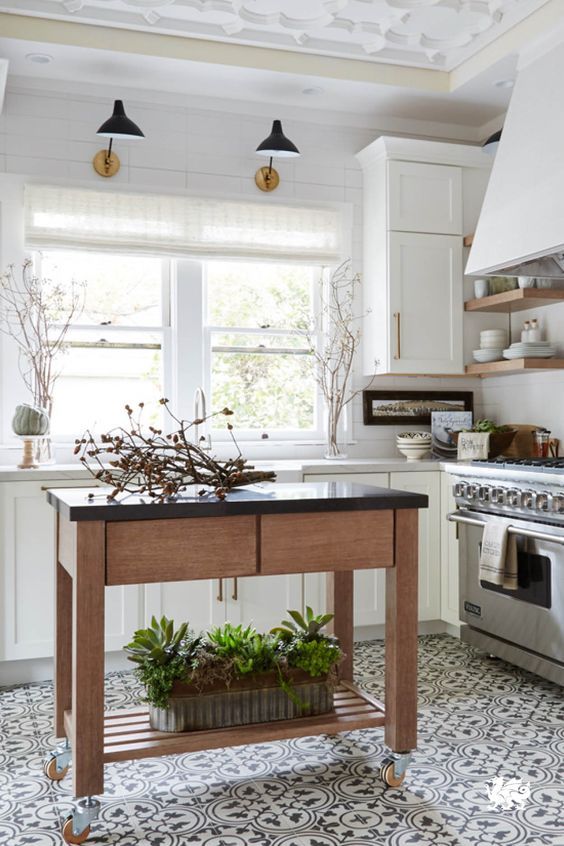 STATEMENT FLOORS
Looking to add some pattern to your kitchen? Say hello to the statement floor, a brilliant way to add instant impact to your kitchen with a bold design. While rugs are great in other rooms, they aren't super practical for a kitchen that's prone to spills and splatters. Decorative tiles are a gorgeous and practical way to inject pattern into a kitchen space. We predict this trend to take off in Vancouver kitchens.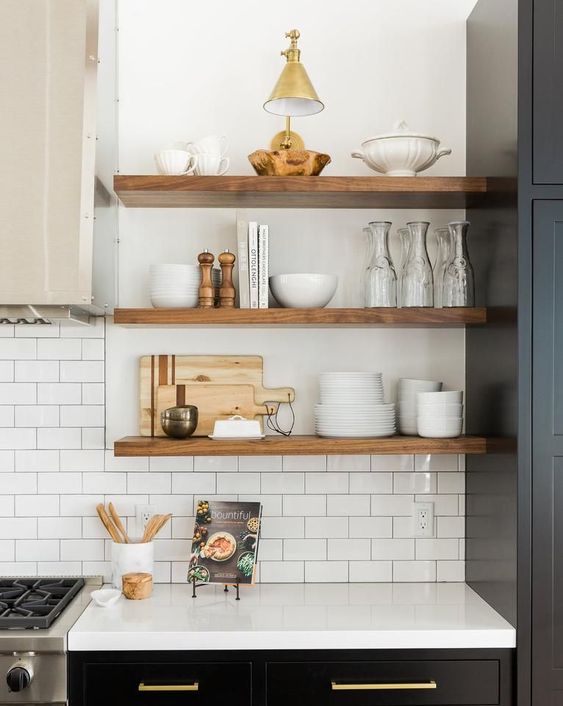 OPEN SHELVING
Not a new trend by any means, but one that we predict continues to gain popularity in kitchens in 2019.  We love utilising a dedicated section of wall space in a kitchen for open shelving. They create a nice visual break between cabinetry, and allow for clients to showcase beautiful kitchen goods, antiques, cookbooks, and so much more. Open shelves also makes things easy to find, and create a utilitarian feel to any kitchen! We"ll continue to see this trend soar in kitchens renovations in Vancouver and beyond.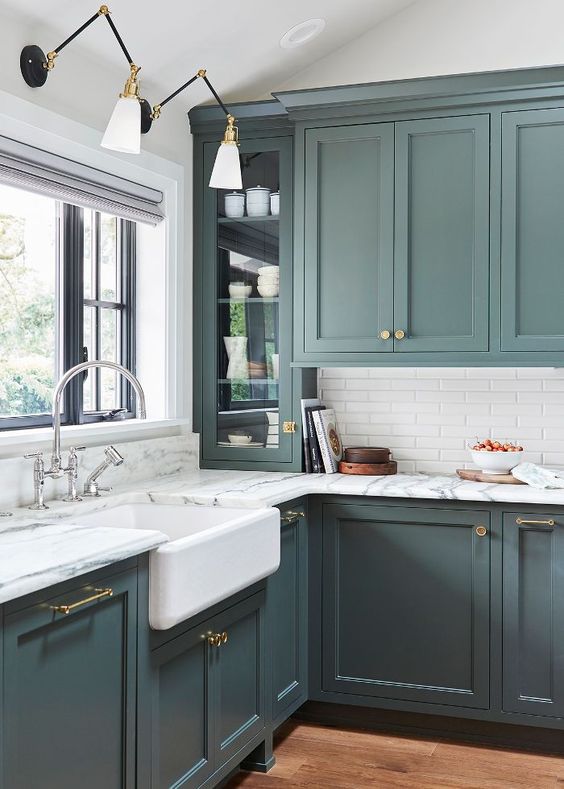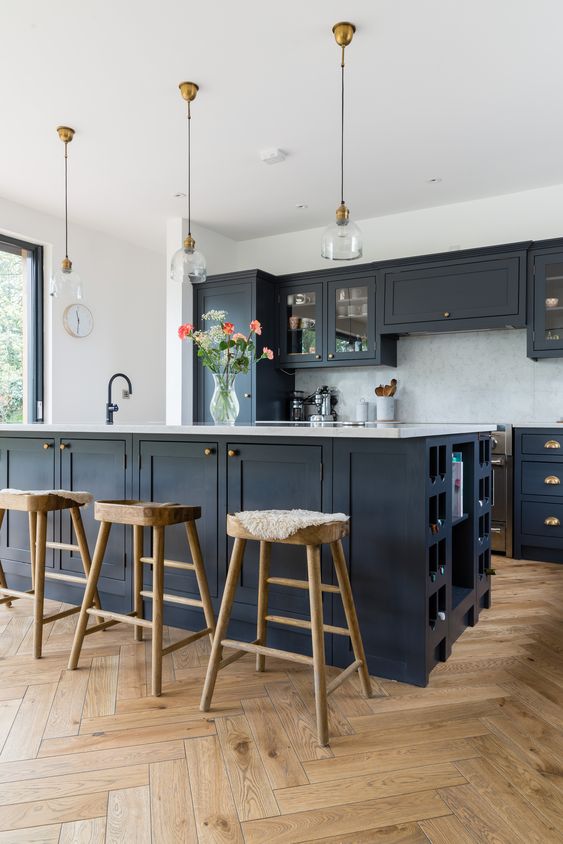 COLOURFUL CABINETRY
We predict 2019 will be the year colour really makes a big comeback west coast kitchens. While we are still a huge lover of whites and neutrals, we also are fully onboard with adding a punch of colour to your kitchen, when it's done tastefully of course.  So, what colours will make a big impact? Muted dark greens and navy blues will be the winners because of their versatility and ability to mesh well in traditional and modern interiors. Both of these colours work perfectly with coastal styles, and can be used for the entirety of kitchen cabinetry, or as accent on lower cabinets or a kitchen island.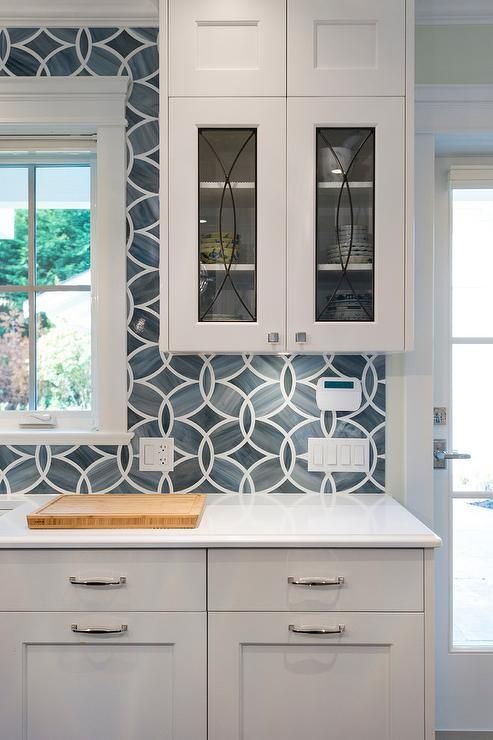 FULLY TILED BACKSPLASH WALLS
We already discussed statement floors, but if that's not your thing, perhaps consider a statement backsplash instead. Attention-grabbing backsplashes are on the rise, and will be a continued kitchen trend in 2019. But, what's really taking off lately is tiles from the counter to the ceiling. 
CREAMY CABINETRY
Whites will forever be our favourite colour for kitchen cabinet colour, but when we say "white" we're really referring to a whole spectrum of tones. Did you know that some paint companies sell over 150 different white paints? One trend we are predicting in 2019 is to use more warm-toned whites and creams for kitchen cabinetry. And as you can see from the example below, warm cream kitchen cabinetry pairs beautifully with cooler, starker white counters and backsplashes, and black accents for a timeless look.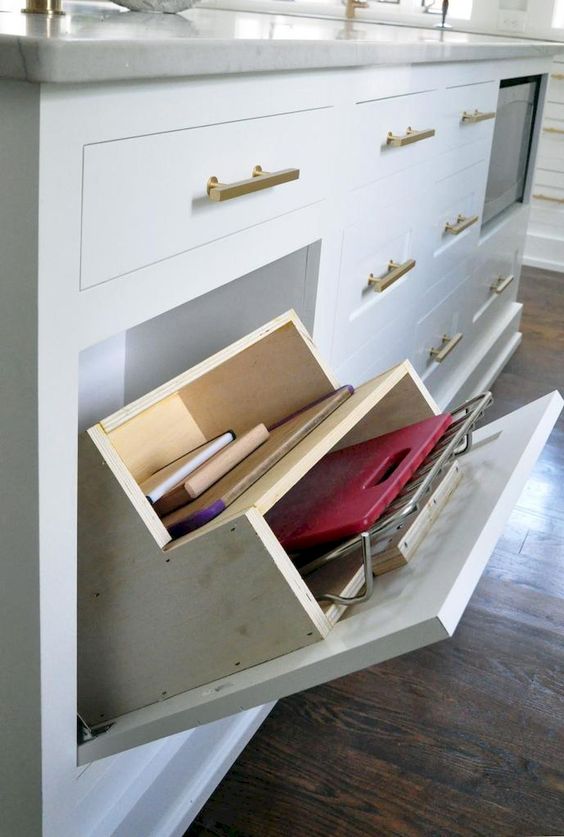 CUSTOM DRAWER INSERTS
Something that can often be overlooked but hugely valuable is custom drawer inserts in kitchens. We're predicting that these will become a lot more popular in 2019 (thanks Marie Kondo!), with kitchen renovation priorities being a mix of function, form and design. Custom inserts are a clever and practical way to store utensils, cutlery, knives, cutting boards, racks, and so much more.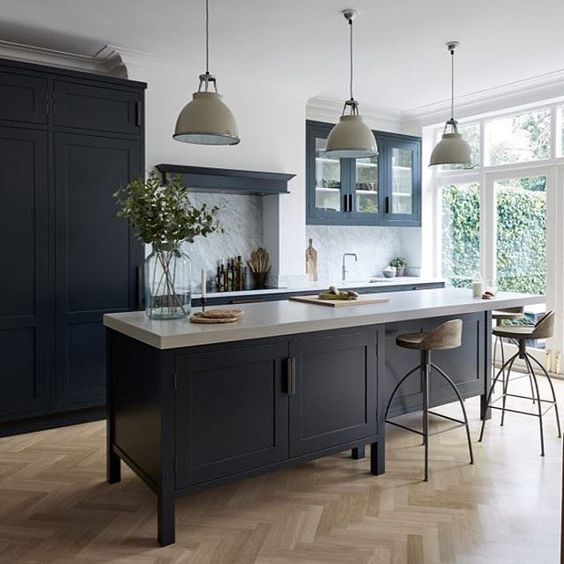 FREESTANDING KITCHEN ISLANDS
Our last kitchen design prediction for 2019 is the freestanding kitchen island. This trend is an instant classic and adds that extra level of visual interest, and airiness we love. Whether you decide on a custom build footed island, or perhaps utilising a gorgeous antique piece, you"ll achieve that old world feel that will create a timeless look for years to come.