The Ultimate Guide to Kitchen Renovations in Vancouver –  Part 2: Making Design Choices
A few weeks back we published Part 1 of our Ultimate Guide to Kitchen Renovations in Vancouver. If you haven't read that post yet, we recommend starting with it before jumping into this article. 
Part 2 of our Ultimate Kitchen Renovation Guide in Vancouver will delve into all the things to consider when it comes to the aesthetics of your kitchen, and making design choices. This guide will walk through the important things to consider with regards to your kitchen's layout, and what to consider with regards to your kitchen cabinetry, countertops, and kitchen flooring.
So, if you're ready to jump into the nuts and bolts of kitchen design, let's go! 
What should I consider when it comes to the layout of my kitchen?
Unless you are building a brand new space all together, either through an addition, or new home, for most clients renovations, the size and shape of your existing kitchen space will likely determine the most appropriate design layout for your new kitchen. That being said, many of the homes we renovate we're built in the 60's, 70's, and 80's, a period where open concept kitchens we're not really instyle. This often means that we need to open up the space by taking down walls, and creating better flow through the kitchen and main floor rooms. 
The most practical and efficient way to plan the layout of a kitchen is always (or should be) built around the "working triangle". This layout approach is smart because it helps to minimize steps and walking distance to the sink, stove, and fridge.  In most cases, this approach will work with minimal renovation to the existing space, and may only require you to move 1 of the three existing points in order to have a functioning triangle. Other times, a client's existing kitchen layout is so inefficient that it's often better just to wipe the slate clean, and start from scratch. As an example, we worked on a kitchen renovation in North Vancouver several years back when the owner had to walk all the way around her existing kitchen U shaped island to reach her fridge, and her stove  – this layout was simply not practical and needed to be revamped for maximum efficiency. 
What should I consider when it comes to the desired "flow" of my kitchen?
The other critical aspect to consider when it comes to kitchen layout is improving the flow of the space. While an efficient workspace is definitely crucial, it's also very important to think about how people will move through your kitchen, how it will work for your day-to-day needs, and how it can operate when you are entertaining, if that's something you plan to do a lot. 
Maybe you and your partner like to cook together, or you have a busy household of kids or pets? If so, you'll want to create enough functioning flow to avoid constantly bumping into other another, or possibly tripping over children or pets, so you can complete kitchen tasks effeciently, and also safely.
If you are big on entertaining, and want to keep guests out of your main cooking/prep zone, then a kitchen island will be an essential element to create functional flow. Psychologically, a kitchen island acts as a barrier, and guests will naturally pull up a stool at the island, while you work your culinary magic on the other side. It just naturally acts as a 'shield' for a cook, improves function and flow, and is one of the best elements you can add to a kitchen for maximum bang for buck. 
Finally, if you're like many of our clients who are currently planning to renovate their mid-century , 70's or 80's homes, then you might need to think about removing walls in order to open your space up and bring it into the 21st century. In decades past, kitchens we're simply utilitarian spaces, not meant for entertaining or family life. It wasn't until the 90's that open-concept main floors really took off.  But, as we now know, the kitchen is the hub of the home, and should open up to other key rooms of the main floor including the living room, den, or dining space. Worried about load bearing walls? This is why working with a professional kitchen renovator like Canadian Renovations is absolutely necessary – these are jobs for the pros! 
What should I consider when it comes to choosing kitchen cabinetry? 
Out of all the various components that go into a kitchen, selecting cabinetry is probably the most important decision to make, because it impacts both the look of a kitchen, and the functionality. It can also greatly determine the longevity of a 'style' so this is why working with a professional kitchen designer is critical – afterall, you want this renovation to last a long time, and we can help you make the right choice!
Things you'll need to consider include the following:
Wood species

Door style

Colour – stain or painted

Selecting combinations

Hardware 
Your design choice will most likely come down preference, budget, and/or what your designer suggests (if you're working with one). Some of the more common styles that we recommend clients use are shown below. We like these cabinets because they are timeless, economical, will stand up to day to day use, and still look stylish and current 15 years from now.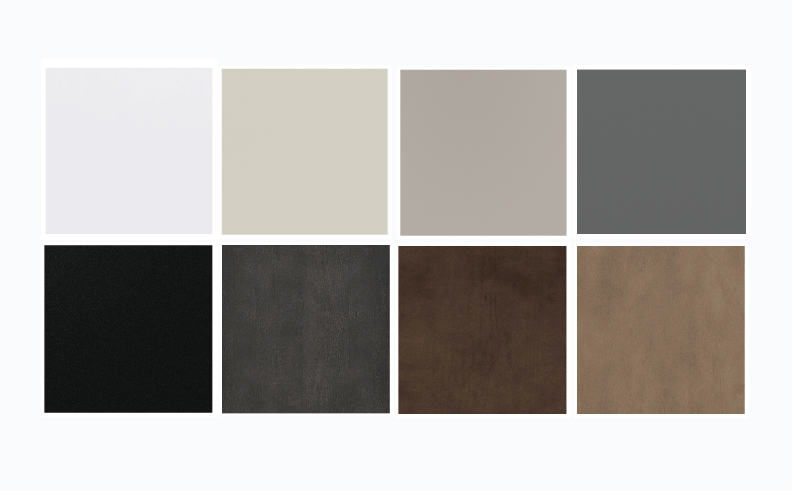 What should I consider when it comes to choosing kitchen counter tops?
Selecting your kitchen countertops can often be just as challenging as your cabinets. Once again, you'll be faced with an assortment of selections to wade through, which include:
Material/Species

Colour/Grain

Edge style 

Selecting combinations 
Today, countertops are expected to serve as the kitchen workhouse, as well as the kitchen showpiece. You'll use them to prep, need them to be highly durable, stand up to heat, stains, scratches, be easy to clean and look beautiful, and finally (in most cases) be economical too! That's a lot to ask for, but fear not, we can always help you wade through the options and narrow down your choice to something that will meet all these requirements, not to mention work with the rest of the kitchen design aesthetic. Below are some examples of our favourite countertops.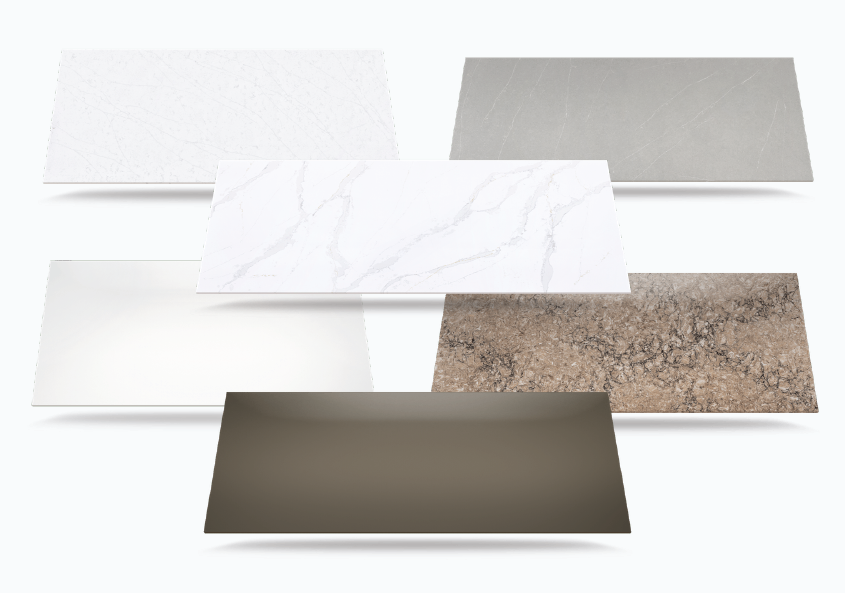 What should I consider when it comes to kitchen flooring?
When redesigning a kitchen, we're often tasked with replacing the flooring within the space. Because many of our clients homes in Vancouver, North Van and surrounding areas are older 70's, 80's, and 90's houses, we often find ourselves removing decades old vinyl, cheap laminate, or old chipped well-worn ceramic tiles. 
People's tastes and expectations for kitchen flooring has changed drastically over the years. Imagine telling a homeowner in the height of the 80's that hardwood floor would work in their high traffic kitchen!? No chance. They would have laughed and said "Linoleum is the only option". But today, as we have seen, engineered hardwood is an incredibly popular choice for kitchens. The key to choosing flooring for your kitchen is to ensure your choice will withstand water spills, lots of foot traffic, scratches, and temperature fluctuations. Yes, your kitchen floors need to be tough – but that doesn't mean they can't be pretty too. Regardless of the material you choose, there's no reason your kitchen floor can't be a large part of the overall design aesthetic for the kitchen. 
In many cases, if we're renovating a kitchen for an open concept space that spills onto a living area, then we'll often suggest running the same flooring throughout, for continuity and visual flow.  
The key consideration is to ensure all your material choices (cabinets, counters and floors) work harmoniously together. We'll help you pair the perfect floor with your kitchen cabinets and countertops, and ensure your choice is durable, beautiful, on-budget, and works in the bigger design picture of your kitchen. 
Final thoughts on making kitchen design choices for your renovation
As we've already highlighted, kitchens truly are the heart of the home. Our clients desire spaces they can walk into each morning, and come home to every evening and feel inspired, proud, and confident in their space. 
If you are starting to think about renovating your kitchen in Vancouver, North Vancouver, Surrey, or surrounding areas let's talk! We are Vancouver kitchen renovation experts that will help you to feel guided, informed, and supported throughout all phases of the renovation!
Part 3 of our Ultimate Kitchen Renovation Guide will be released in October, so stay tuned for that article where we discuss how to prepare for, and live through the renovation period – without losing your marbles! 
Is this all sounding good?  If so, find out how to select a kitchen renovation company, and what to ask them.
Check out our blog post here that offers you ideas on what to ask ….and stay turned for Part 3 of this Guide coming in October!